Padel Products Specialist
Services:
Editorial, Industrial Product, Visual Ads & Communication Design
Make the forgotten brand Starvie position itself after 5 years in the shadow among the first benchmark brands in the Padel market.
As a strategy to achieve the objectives of the brand and respond to market demand, the concept and lines of the molds of the Padel rackets were working hard, creating very elaborate designs with a more technological and modern image. Idea that was inspired by observing the styles and design lines that other industries such as automotive were using at all times.
Creating and improving each product collection that the Starvie brand needed to market every year within the Padel industry, trying to give an innovative style with increasingly minimalist designs as market demand evolved.
The same concept and idea of technology moved to the interior and exterior visual image of the brand's Padel product catalog, taking advantage of a detail of the same product as cover image showing the most technological part of each collection.
The interiors of the catalog were worked to the millimeter to give a layout that combined a minimalist and technical image, despite the great information they contained per page.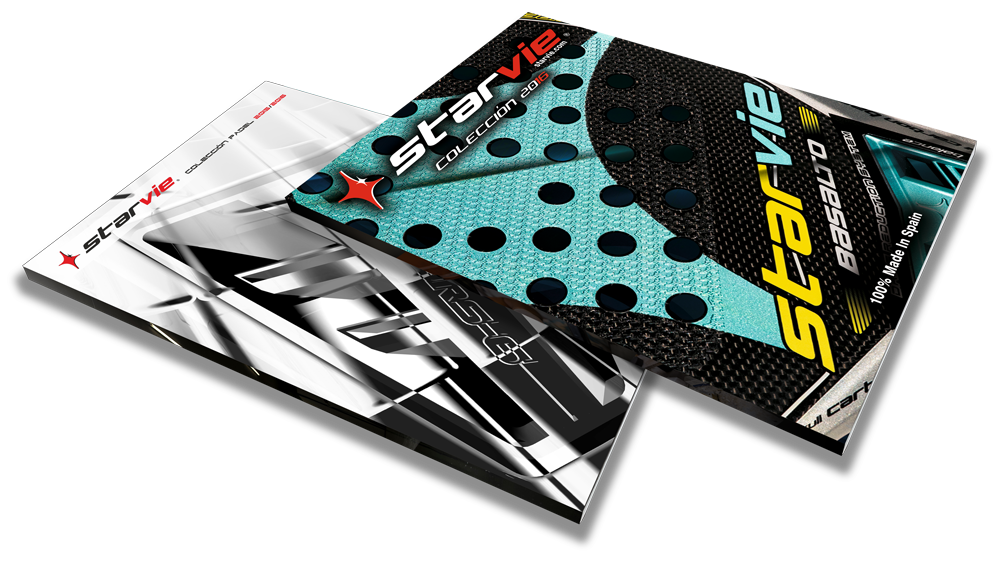 A special detail was taken in creating ranges of products and colors that would combine with each other, mainly between the ranges of professional products, being these the benchmarks of the brand.
Regarding the designs, a technological line was always kept as minimalist as possible to give more importance and presence to the brand over the design itself.
For the visual and communicative image, the brand decided to present each product collection together or separately from the professional players with whom it had a sponsorship contract. Although sometimes, focusing on the novelties or new top-of-the-range Padel rackets that were developed.